This post will recap the entire 2025/2026 season

Last season we were able to squeeze into 4th place on the last game of the Bundesliga season to return to European football. Let's see where we ended this season.
---
Transfers
Out
The Champions League served as a great platform for some of our players to be scouted by other teams so I wasn't surprised to see some of them go this summer.

Doucouré, Elanga, and Levitt were some of our best performers last season, luckily we have replacements ready to step up. Squad players such as Sarpei and Šuver also left for more playing time. We also had two youngsters leave Antwi and Schmidt as they were not highly rated by our youth staff. Samuel Lengle left on loan once again, I will try to sell him next season. Also, six youth players left on loan to gain some experience.
In
Pre-Contracts:
As mentioned in my last post, I planned ahead of my self-imposed transfer ban by agreeing three pre-contract signings before the beginning of the season.
Ilkay Gündogan joins from Benfica. He has spent the last three years in Portugal without winning any trophies. He will provide cover after losing Sarpei and Levitt.
Luca Netz rejected a contract from Hertha to make his stay at Verl permanent. He has spent the last four years on loan with us.
Manfred Chudoba also joins us from Hertha. He has mainly featured with their B team and spent last season on loan in Bundesliga 2. He will rotate with Bahaa Abdelhaim at RB.
Youth:
Júnior Felício Lorenz is a free agent newgen who is half Brazilian and half German. I'm not sure how he will develop but it was worth bringing him in.
---
Squad
The recruitment in the last two windows prepared us for the six outgoing first team members. Although the team is on the light side we have enough players in the 2nd team to be called upon if needed. Now that the squad is settled in terms of incoming players, the focus from now on will be to call up youth players when first-team players are poached by bigger clubs.
Goalkeepers: Christian Früchl (26), Tobias Leclerc (21)
Defenders: Manfred Chudoba (19), Bahaa Abdelhalim (21), Kilian Senkbeil (27), Ian Robinson (20), Didier Leger (21), Luca Netz (23), Jonathan Meier (26)
Midfielders: Ilkay Gündogan (35), Christian Frydek (27), Joe Hodge (23), Lucas Avci (20), Isak Hansen-Aarøen (21), Kentarô Azuma (21)
Wingers: Mika Schroers (24), Tjas Begic (22), Billy Jones (21), Ivan Perera (20)
Forwards: Florian Krüger (27), Matthew Hoppe (25), Paul Glatzel (25), Thomas Amang (28)
---
DFB-Pokal
Just like last season, I decided to play squad and youth players. After some surprising results we were able to make it to the semifinals where we lost to Borussia Dortmund. No shame in losing when you're playing with kids.
---
Champions League
This season we were pinned against Man City, AC Milan and Krasnodar. I believed we had a better chance of qualifying compared to last year since Milan had barely made it into the top 4 in Italy and I did not see Krasnodar as a threat.

We beat Krasnodar (4-0) in both legs. Milan were also brushed aside (1-0) at home and (2-4) at the San Siro. As you can already imagine, Man City beat us comfortably on both legs, (0-2) at home and (4-1) away. The results were good enough for us to qualify for the knockout stages.
We had an all English affair in the knockout rounds. We first travelled to London to face Spurs (who are still managed by José Mourinho). We took an early 2 goal lead thanks to two errors from Sergio Reguilón. Pau Torres' header wasn't enough for the win but it gave Spurs the away goal advantage. In London, we went down 1-0 in the 57th minute after conceding a penalty, this would have taken Spurs to the next round but super-sub Matthew Hoppe's 88th minute goal ended Tottenham's run.

We were off to Liverpool for the Quarter Final. We tied 1-1 away, Ivan Perera scoring the equalizer in the 43rd minute. The second leg was goals galore, we were tied 2-2 until Franck Kessié got sent off in the 61st minute. Ivan Perera put ahead in the 65th minute and Tjas Begic finished off the game in the 87th minute, ending the game 4-2.

The next stop on our English tour was Manchester to face my beloved Man Utd. The first leg was entertaining to say the least, both teams were showing why they deserved to be in the final, by the 80th minute we were tied 2-2 but then a defensive mistake by Killian Senkbeil cost us the game, (2-3) to United. Unlike the first leg, the second leg barely had any action, neither team could get going, our 23 fouls didn't help either. The match ended (0-0) and were sent back to Germany.

Man Utd went on to win their second Champions League in a row by beating Chelsea.
---
Bundesliga
As you've read above, we've played a lot of games this season as we made it deep into both the DFB-Pokal and the Champions League. I know that it's nowhere near the 90 games that you'd play in South America but when you only have 23 players in your team, it matters. Smart rotation was going to be key to what would be an unexpectedly successful season.

We began the Bundesliga season with two dominant wins against M'gladbach (3-1) and Bayer Leverkusen (0-2). In the third game of the season, we faced Hertha Berlin who beat us (1-2) at home. Hertha has become one of your competitive rivals off-and-on the pitch, by poaching players off each other and having a competitive head-to-head record. That lost to Hertha most of sparked something in the team, because by the end of October we were unbeaten in seven games. Including a (0-1) win at Dortmund and a (4-0) thrashing of Bayern.

Fast forward to the end of December and we've yet to lose in fourteen games, 12 wins and 2 ties, those two ties where in between CL games and mainly featured squad and youth players. We went into the winter break top of the league, ahead of M'gladbach by 5 points.
---
We started the second half of the season with Back-to-back wins vs M'gladbach (1-2) and Leverkusen (6-0). Christian Früchtl suffered a season-ending injury against Leverkusen, this meant that we would play the rest of the season with our young French goalkeeper Tobias Leclerc. Things didn't end there, our 16 game unbeaten run ended in a disastrous lost against Hertha (5-1). (the head-to-head record is now at 5W-1D-5L)

In between February and March we began to drop points. We tied (1-1) against Dortmund, Perera once again come to our rescue in the 79th minute. Two big wins agains Nürnberg (0-6) and Freiburg (4-1) gave us the momentum to beat Bayern (2-3), that's six unbeaten games vs Bayern in the last three seasons, putting us ahead in head-to-head, (4W-2D-2L). Hoffenheim's Fred Chalov put two in the back of the net to salvage a draw (2-2). I decided to tinker my tactic and played 5-3-2WB against Augsburg and it came back to haunt me, losing (1-0) at home after 9 unbeaten games at the SchücoArena.

Now in April, the pressure on the team me started to mount, we were in the Pokal and in the thick of the Champions League. We responded well after the patchy spell in Feb/March with back to back wins against Köln (3-1) and Union Berlin (0-2). Things got a little more interesting as we were officially in a title race against three other teams. Bayern being the closest one to us by four points. As Oaky-FM said in the Slack channel, "The only one stopping you is yourself as it seems."
By this point we had just beaten Liverpool (4-2) in the Quarterfinals of the CL. We had two more league games in April in-between two huge games, as we faced Dortmund in the Pokal Semifinal and Man Utd in the CL Semifinal. Schalke were first, we went a goal down early in the first half, we then bounced back with two goals before the half. Schalke tied the game in the 66th minute, they dominated us for the rest of the game, on the 80th minute Didier Leger brought down Hwang Hee-Chan in the box for a penalty, ending the game (2-3). We traveled to Frankfurt and I gambled the game with a heavily rotated squad, fortunately the players pulled through and won the game (0-1).

At the start of May, we were still in 1st place but Bayern slashed the point difference to 3 points. We hosted Leipzig before the second leg of the CL semifinals, so naturally, I fielded a weaker side but unlike the game at Frankfurt we ended up giving away a late goal for them to tie the game. Still in first place but Bayern were now just two points away. Getting knocked out of the CL semis lowered the morale of the team which reflected in the (2-1) loss away at Mainz, luckily Bayern tied against Leverkusen.

It all came down to the last match of the season, we needed a win. A tie would see Bayern snatch the title on goal difference if they won against Hertha. Wolfsburg on the other hand were fighting for survival. The game was quite even, both teams going back-and-forth. Although we dominated possession (61%), Wolfsburg kept countering and taking their chances with no end result. Forty minutes into the match, we have a throw-in… Abdelheim launches the long throw into the box… the goalkeeper and defender come out for it… they both miss the ball but it falls to Christian Frydek's foot for him to score his first league goal of the season. This goal was all we needed to lift our first Bundesliga title!!!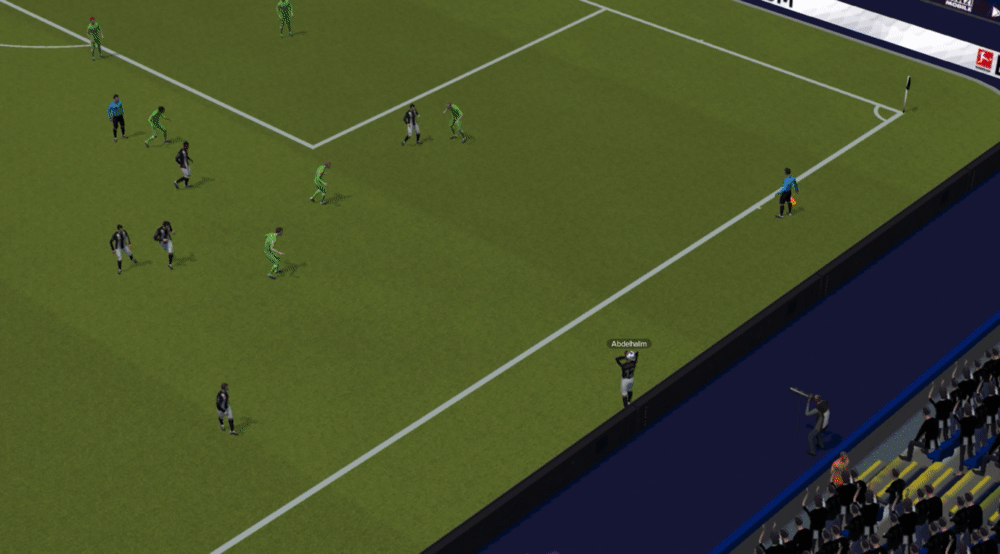 ---
Best of the Bunch
After the phenomenal season that we had, I was not surprised to see that eleven out of the 24 players in the first team had an average rating of 7 or higher. The Bundesliga Team of the Year and Player's Team of the Year also featured two of our own, Didier Leger & Ian Robinson. I'm not sure how Christian Früchtl was not selected as he had more saves and clean sheets but hey, two is better than none.

Because of the heavy rotation throughout the season, we finished with five players scoring 10 goals or more and six players with 9 or more assists. Although I'd love to see one of my players have 20+ assists or score 30+ goals, I'm happy that I can rely on the entire squad to perform when called upon.
---
Youth
Intake:
This season there are two youth players that look okay but not worth sharing a screenshot, 16 y/o central defender Thuwan Joseph and 15 y/o midfielder Jean-Pierre Ombga. We will see how they progress in the next year or so, they will spend the rest of the season with the u19s but moved to the B team come next season.

Development:
Ian Robinson has become one of the first names on the starting lineup. The Ireland international started 36 games (3 subs). Playing the second most minutes in the team with 3,326 minutes in which he scored 4 goals and assisting 2. He finished the season with a 7.06 avg rating.
Billy Jones had his best season so far. The 21 y/o scored 7 goals and finished the season with the most assists in the team, 12. He averaged a 7.07 rating.
Joshua Embers spent the season in Bundesliga 2 with Rostock. The young defender had 2 assists in 36 games with a 6.99 avg rating. He will step up the first team next season as our 4th CD.
Roald van de Bosch stayed with us the first half of the season. He scored 3 goals in 10 games. He then spent the second half of the season with Bundesliga side Union Berlin, averaging a 6.55 rating in 14 games. He had no goal contributions.
Gabriel Sanclemente was loaned out once again to Paderborn, this time in Bundesliga 2. He was outstanding scoring 14 goals and assisting another 8 in 35 games. He finished with a 7.31 avg rating. He will spend next season with the first team.
Sattar Mousavi finished the rest of his 18 month loan to Dynamo Dresden in Bundesliga 2. He scored 11 goals and provided 5 assists in 28 games. Averaging a 7.36 rating.
Pascal Skibbe had a great season with our B team. He came off the bench 23 times and started 10 games. Assisting 5 and scoring 3 goals. He had an average rating of 7.14. He will spend another year with the B team/U19s.
---
Infrastructure
The board agreed to invest £7.5 into both our club and youth training facilities. Elsewhere, I've been harassing the board to add more youth affiliates and thankfully we were able to add four more teams – Norwegian club Tromso Il, Racing Santander from Spain, Romanian side Dinamo Bucuresti and Austrian club SKN St. Pölten.

Another year with no plans for a new stadium… we have over £430m in the bank ffs, just do it!
---
End of Season Review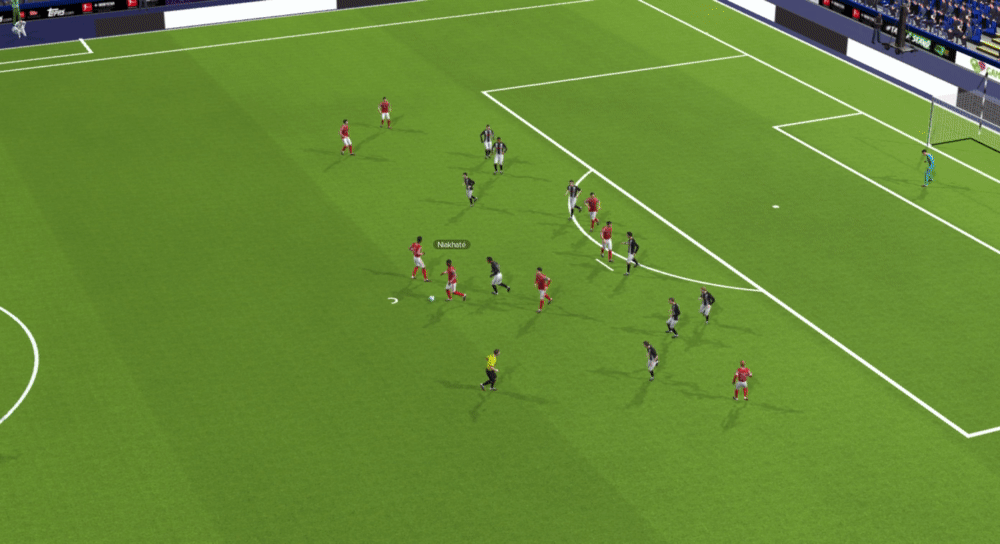 ---
Now that I'm done with season 6 at SC Verl, I figured it would be worth going over the objectives that I gave myself at the beginning of the save:
Promotion to Bundesliga by 2025. ✅
Become Bundesliga champions. ✅
Surpass Bayern's commercial revenue. ❌ (this was completely wild of me to believe that I could achieve such thing)
Have the best academy in Germany by 2030. ❌
Win the Champion's League with 11 homegrown players from the club. ❌
After rereading my objectives & goals that I gave myself at the beginning of this save, I learned that I need to chill out with the objectives in the future. Some of them were a bit out there, or might have taken me longer to achieve. I play the game too slow for me to put 10+ seasons, smh.

With that said, I'm not sure how much further I'll be able to continue to play but I will do my best to put out at least one more posts before FM22.

Thanks for following along 🌹!

Best,
José